Florian

Particke

,

M. Sc.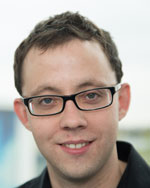 Organisation:

Department Elektrotechnik-Elektronik-Informationstechnik (EEI)

Abteilung:

Lehrstuhl für Informationstechnik mit dem Schwerpunkt Kommunikationselektronik (Stiftungslehrstuhl)

Webseite:

http://www.like.tf.fau.de/
Adresse:


91058 Erlangen - Tennenlohe
---
Nach abgeschlossenem Abitur führte Florian Particke sein Studium in Kooperation mit Siemens AG als duales Studium durch. Hierbei erlangte er den IHK-Abschluss "Elektroniker für Automatisierungstechnik" und den Bachelor of Engineering in Elektro- und Informationstechnik mit dem Schwerpunkt Kommunikationstechnik. Anschließend absolvierte er sein Masterstudium an der Friedrich – Alexander Universität Erlangen-Nürnberg (FAU) im Studiengang Elektrotechnik mit der Vertiefung (Informationstechnik). Er schloss sein Studium im August 2015 mit dem Master of Science ab. Nach einem halben Jahr als Software-Entwickler bei der Firma Siemens im Rahmen der Softwareentwicklung für Steuergeräte von Lokomotiven, ist er seit April 2016 als wissenschaftlicher Mitarbeiter am Lehrstuhl für Informationstechnik der Friedrich-Alexander-Universität tätig. Die Tätigkeit findet in Kooperation mit AUDI AG statt. Forschungsschwerpunkte sind das Autonome Fahren und Industrie 4.0. Hierzu betreut er das sich in Entstehung befindende Robolab.
Wintersemester
Sommersemester